SCREENPLAY
Action/Adventure
Waitress #2 by Nathan Patton – Winner
Nathan Patton didn't grow up in a rural Arkansas town, population 85–he grew up on the outskirts of that town. That seclusion led to a lot of time spent inside his imagination, writing and drawing his own comic books, or acting out unmade Indiana Jones sequels in the woods behind his house.
He's still waiting to grow up, but he did eventually get a job, doing some work in the comics field, and working as a freelance journalist and weekly political cartoonist before eventually deciding to get his MFA in Writing. He's a Michener Fellow at the University of Texas at Austin, where he lives with his wife (who loves him) and dog (who tolerates him).
His feature script, Greenwood, came in fifth place in the 2018 LAUNCH Million Dollar Screenplay contest and was a semifinalist in the 2018 Austin Film Festival. His writing has been published by McSweeney's, the Malahat Review, and his mom's refrigerator.
Edison's Ghosts by Kevin Bachar – Finalist
Comedy
Big Red by Aaron McCann & Dominic Pearce – Winner
Aaron McCann (Irish born, Australian raised) and Dominic Pierce (Australian born, Canadian/Singaporean raised) are two writer/directors currently based in the most isolated city in the world: Perth, Western Australia. Since 2004, they have amassed a number of music videos, commercials, and web series.
In 2016, they finally branched out into TV and films, with their debut feature Top Knot Detective, which premiered in the USA at Fantastic Fest 2017 and went on to play at over 35 festivals worldwide including Sitges, Rotterdam and FrightFest UK—winning a variety of awards on its journey around the globe, including Best Narrative Feature at Mexico's STUFF MX Film Festival 2018.
The pair continue to write and direct together and separately, as well as write and perform music (Dominic) and act for the screen (Aaron). Dominic is also an accomplished documentary editor, and Aaron works as a 1st Assistant Director on numerous Perth productions. Together they are currently finishing post-production on their second feature film, whilst developing new projects for cinema and television, both in Australia and the USA.
Henchman by Woody Bess – Finalist
Drama
Molly by Justin Kwon – Winner
Justin Kwon is a recent college graduate/screenwriter from Glendale, Arizona. While having spent most of his whole life writing short stories and watching movies at every opportunity, it was only four years ago that he stumbled onto screenwriting after viewing the sci-fi drama Her (2013). After watching and rewatching the film. . . and then rewatching some more, he found the screenplay online, read it, and immediately began writing his own take on the sequel for the story. And that's where he fell in love with the craft.
Since his entry into screenwriting, he spent the subsequent years writing and outlining a collection of scripts and shorts between working part-time and attending college, while completing a number of freelance work for studios and producers—jobs ranging from writing a video ad to revising a studio spec to writing for a film producer.
Justin has an affinity for diverse dramas (from absurdist to crime to sci-fi) and character-driven scripts with grounded themes that are written with a sincere, resonant effort, which could be seen as a reflection of his nature: introverted, empathetic, with a hunger to connect despite his social awkwardness. But despite his focused preference of scripts, he has an eclectic taste in films, ranging from 60s films like Breakfast at Tiffany's to spaghetti westerns (My Name is Trinity) to war films (Fury).
The three films he notes as being an inspiration for his writing are Her, Memories of Murder, and Sideways.
Martha by CM Landrus – Finalist
Horror/Thriller
Method by Louis Paxton & Laurie Nunn – Winner
Louis Paxton grew up making films in Edinburgh, Scotland. He later moved to London to complete an MA in Directing at the UK's National Film and Television School. He's made dozens of short films as a writer and director, mixing different genres to create bold, new and exciting work. His latest short, Satan has a Bushy Tail has picked up numerous best comedy awards during its festival run.
Louis' debut TV project, sci-fi sitcom The Spare Room, was selected for the BAFTA Rocliffe drama forum in 2014 and then picked up by BBC comedy (Fleabag). This led to his developing the TV project 21 and Over with Sue Vertue and Hartswood Films (Sherlock).
I
n 2016, Louis was one of ten writers selected for the UK's Betty and Peter List, compiled by Big Talk and LOCO film fest, celebrating exceptional talent in UK feature film comedy writing. Louis is currently in development with the Scottish Film Talent Network on Dark comedy/drama The Incomer, this will be his first feature film as writer/director.
Laurie Nunn was born in London and grew up in Victoria, Australia. She studied writing and directing at the VCA school of Film and TV in Melbourne. She then moved back to the UK to complete an MA in screenwriting at the National Film and Television School.
Since graduating in 2012, she has developed original projects with Eleven Film/Channel 4, Kudos Film and Television, Wigwam Films and Revolution Films. Her feature film script The Summer House is in development at Bird Flight Films.
Scout by Sam Goodwin – Finalist
Sci-Fi/Fantasy
Audrey 2.0 by Imogen Grace – Winner
Imogen Grace hails from a small theater town in Canada where a love of Shakespeare was ingrained from a young age. At the age of 18, she moved to New York City to study acting at the American Academy of Dramatic Arts. Shortly after graduation, she was selected to write script coverage as an intern at Killer Films, where she stole un unused roll of 35mm from the film Kids and developed a passion for screenwriting.
She moved to Toronto and continued to pursue acting while screenwriting and directing three short films which screened to acclaim at international film festivals. She slowly moved into production work on television series like Suits, The Umbrella Academy, and the upcoming Departure, and decided to fully transition from actress to screenwriter.
Audrey, 2.0 is Imogen's first feature screenplay and has won the New Orleans Film Festival Screenplay Competition for "Best Feature Screenplay," Oaxaca Film Festival's "Fade Out Award," and Catalina Film Festival's "Award of Excellence." She is currently developing an 8-part television series set on the Alberta/Montana border as well as a romantic feature screenplay set in New York City.
Alieu the Dreamer by Quincy Ledbetter – Finalist
Encounters by Gary King – Finalist
TELEPLAY
Half-Hour
NPCs by Andrew Golder – Winner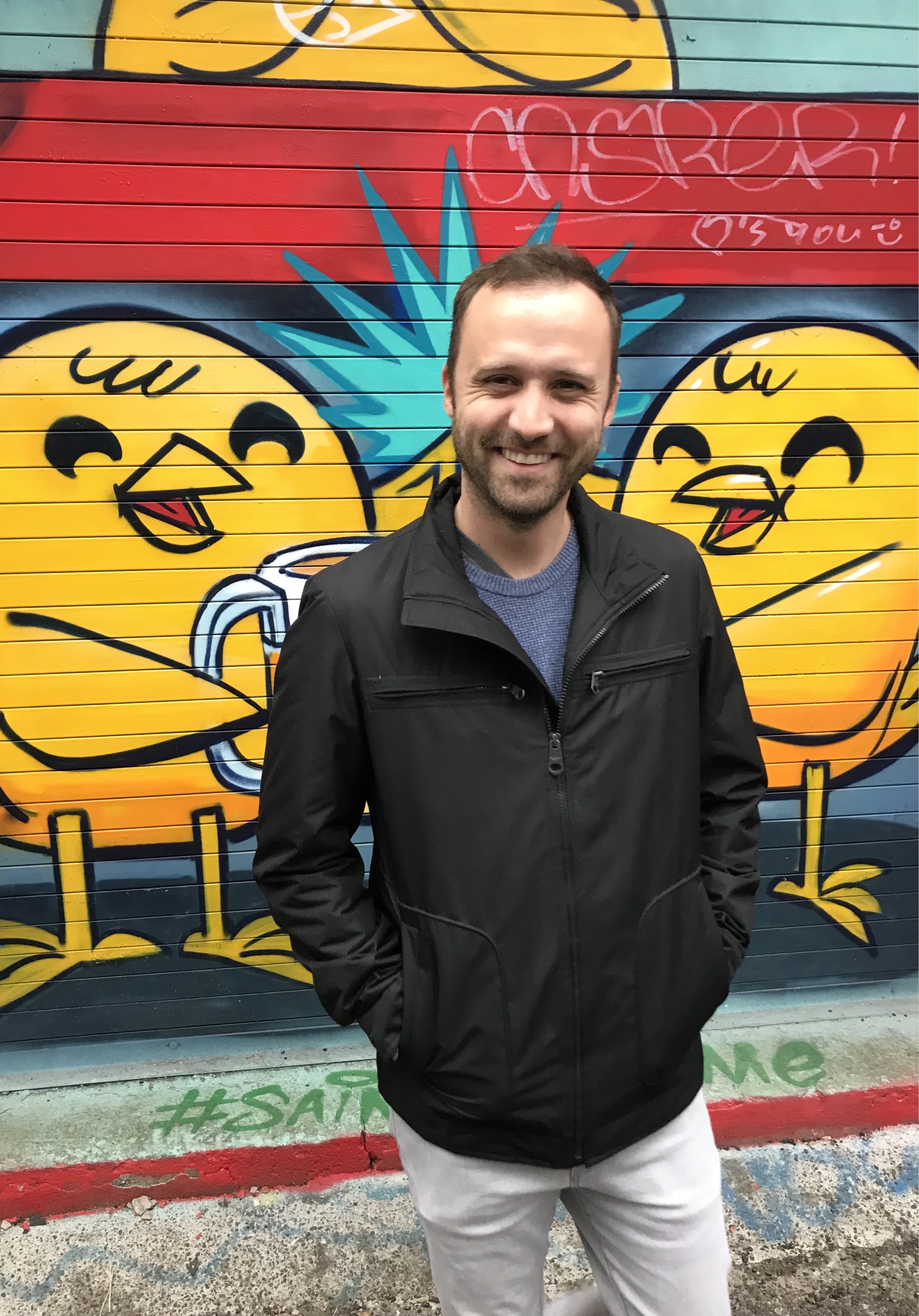 Andrew Golder is an LA-based writer and former Michigander. Having worked with
The Soup
,
Chelsea Lately
, and BuzzFeed, Andrew has experience with just about every type of content there is, from sketch comedy to lists of cute cats and quizzes about your Hogwarts house.
As a screenwriter, Andrew worked on the Emmy-nominated animated special Lost Treasure Hunt. His original pilot, NPCs, was a finalist for the 2018 PAGE International Screenwriting Awards.
Andrew's passion for animated comedy stems from his lifelong love of cartoons and video games (and more embarrassingly, anime), as well as his experience in voice acting following his graduation from the University of Michigan with a BFA in theatre.
Sleepers by Jeffrey Sutton – Finalist
Hour
Viral by Kevin Bachar – Winner
Kevin Bachar's a three time Emmy award winning documentary producer/writer/cinematographer. If you've watched Shark Week, National Geographic, or PBS Nature you've seen his work. Yep, he's the idiot in the water filming sharks or searching for vampire bats in the Amazon jungle. Recently, Kevin turned his creative endeavors to screenwriting. His work in documentaries gives his writing a raw, realistic tone.
In addition to being a Script Pipeline winner and finalist, he was a semifinalist at the Austin Film Festival for the screenplay The Relative (formerly Blood Relative)  He won the RomCom genre at Final Draft's Big Break contest in 2018, won Stage32's New Blood contest, and took the Grand Prize at the 2018 PAGE awards for the screenplay Tundra Kill. He's also been in the top 10% at the Nicholl Fellowship with multiple scripts.
End of Life by Sean Collins-Smith – Finalist
Ten Thousand Islands by Peter Short & Sue Batterton – Finalist
John & Meryl by Jimmy Prosser – Finalist