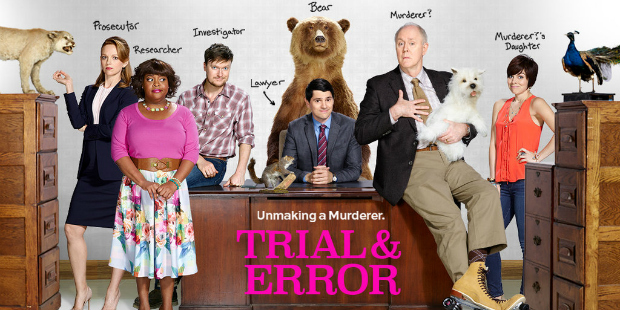 Trial & Error isn't the most revolutionary show. The mockumentary borrows heavily from Making a Murderer, The Jinx, and other recent true crime stories that have recently gained pop culture notoriety. In lesser hands, the show could have settled for a parody of those documentaries, adding nothing new to the table but jokes and sight gags, but creators Jeff Astrof (The New Adventures of Old Christine, Friends) and Matt Miller (Chuck, the Lethal Weapon TV show) went a step further and centered the series on a group of sympathetic outsiders: the bisexual poetry professor accused of killing his wife in the Deep South (John Lithgow), the junior defense attorney from New York hoping for his big break (Nicholas D'Agosto), his legal assistant with a laundry list of psychological and medical conditions (Sherri Shepherd), and his investigator who was fired from the police department for sheer incompetence (Steven Boyer).
The show is able to delicately balance the stakes of the story with the humor. The people of East Peck, South Carolina, immediately label Lithgow's Larry Henderson as a murderer, and the threat of the death penalty hangs over Larry's trial throughout the show. Prosecutor Carol Anne Keane (Jayma Mays) is gunning for it; she has aspirations to be East Peck's first female D.A., and a death penalty conviction would seal it for her. But despite the stakes, much of the humor comes from the defense team. Larry is kind-hearted—the script describes him as "harmless"—but he's also oblivious, going as far as worrying more about whether the cable guy's coming than his wife's death while on the phone with the 911 operator. D'Agosto's Josh Segal (described by the citizens of East Peck as a "Northeasterner") attempts to corral his assistants and his defendant and plays the role of the straight man throughout the proceedings.
The game cast and sharp writing help elevate this series to the next level, and this is a great series for those itching for something similar to Parks and Recreation.