Script Sales
June was a lighter month for script sales. 20th Century Fox picked up Courage, a sci-fi spec written by Karl Gajdusek. The movie is described as in the same vein as Inception and Edge of Tomorrow. Amazon Studios meanwhile has picked up Flint Wainess's 2016 Black List script Linda and Monica about the relationship between Linda Tripp and Monica Lewinski. Zodiac Features is teaming with Bankside Films and Head Gear Films to produce Devon Graye's horror/thriller I See You. Helen Hunt is set to star.
Other script sales:
- Universal Studios picked up Sarah Rothschild's workplace comedy pitch 24/7. Eva Longoria and Kerry Washington are set to star in and produce the film.
- Material Pictures is moving forward with Patrick Ness's Home, based on George Saunders's New Yorker short story.
- Lauren Graham to write and produce an adaptation of Jennifer E. Smith's YA novel Windfall.
- Margie Claus found a home at New Line Cinema. Ben Falcone and Damon Jones wrote the script. Falcone to direct, and Melissa McCarthy to star.
- William Fichtner to direct Cold Brook, an adventure drama he co-wrote with Cain DeVore.
- Thomas Lennon and Robert Ben Garant have been tapped to writer the Cannonball Run remake for Warner Bros.
- Mike Van Waes to write the Conjuring 2 spinoff The Crooked Man.
The Library – Produced Scripts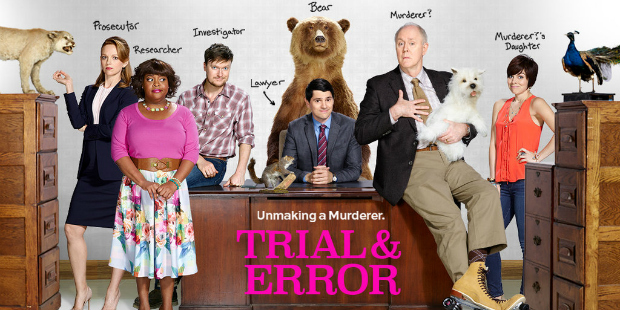 Trial & Error isn't the most revolutionary show. The mockumentary borrows heavily from Making a Murderer, The Jinx, and other recent true crime stories that have recently gained pop culture notoriety. In lesser hands, the show could have settled for a parody of those documentaries, adding nothing new to the table but jokes and sight gags, but creators Jeff Astrof (The New Adventures of Old Christine, Friends) and Matt Miller (Chuck, the Lethal Weapon TV show) went a step further and centered the series on a group of sympathetic outsiders: the bisexual poetry professor accused of killing his wife in the Deep South (John Lithgow), the junior defense attorney from New York hoping for his big break (Nicholas D'Agosto), his legal assistant with a laundry list of psychological and medical conditions (Sherri Shepherd), and his investigator who was fired from the police department for sheer incompetence (Steven Boyer).
The show is able to delicately balance the stakes of the story with the humor. The people of East Peck, South Carolina, immediately label Lithgow's Larry Henderson as a murderer, and the threat of the death penalty hangs over Larry's trial throughout the show. Prosecutor Carol Anne Keane (Jayma Mays) is gunning for it; she has aspirations to be East Peck's first female D.A., and a death penalty conviction would seal it for her. But despite the stakes, much of the humor comes from the defense team. Larry is kind-hearted—the script describes him as "harmless"—but he's also oblivious, going as far as worrying more about whether the cable guy's coming than his wife's death while on the phone with the 911 operator. D'Agosto's Josh Segal (described by the citizens of East Peck as a "Northeasterner") attempts to corral his assistants and his defendant and plays the role of the straight man throughout the proceedings.
The game cast and sharp writing help elevate this series to the next level, and this is a great series for those itching for something similar to Parks and Recreation.
Through annual competitions, Script Pipeline discovers and develops writers of all levels for film and television, connecting them to producers, agents, and managers. Since 1999, several produced films and over $6 million in screenplay and TV pilot spec sales from alumni are credited to Script Pipeline's unique, intensive process of long-term writer-to-industry facilitation. Contest finalists and winners work with Script Pipeline's senior executives year-around, getting broader exposure for their work in addition to continuous, one-on-one development assistance.
Recent success stories include competition alum Evan Daugherty selling Snow White and the Huntsman to Universal for $3 million and later taking the lead on studio projects Divergent, Ninja Turtles, and the upcoming Rose Red from Disney and Earthseed from Paramount. Evan was previously attached to write the limited series Esmeralda for ABC Studios, GI Joe 3 for Paramount, an adaptation of Myst for Hulu, and the Tomb Raider reboot. His contest-winning script Killing Season (formerly Shrapnel) was produced and starred Academy Award-winner Robert De Niro and John Travolta.
Tripper Clancy, another former Script Pipeline Screenwriting Contest winner, sold the road comedy The Ambassadors to 20th Century Fox and the pitch Winter Break to QED International, and was previously attached to write the comedy Stranded for Sony. Tripper is currently writing the animated comedy Shedd for Paramount, in addition to Hacker Camp for Hasbro. In April 2016, he sold the spec Stuber to Fox for the mid-six figures, and in May 2017 was brought on board for an adaptation of the bestselling novel The Art of Fielding.
Micah Barnett, whose work was developed through Script Pipeline coverage services, sold The Rabbit to Warner Bros. for six-figures and a TV pilot, Ricochet, to NBC. Screenwriter Brian Watanabe had his Script Pipeline "Recommend" action/comedy, Rogue's Gallery (later titled Operation: Endgame), also initially developed by Script Pipeline, produced by Michael Ohoven (Capote) and Sean McKittrick (Get Out). The film starred Zach Galifianakis (The Hangover), Adam Scott (Parks and Rec), Jeffrey Tambor (Transparent), Maggie Q, Ellen Barkin, Bob Odenkirk (Better Call Saul), and an ensemble cast. The Living Wake, Script Pipeline's first produced film starring Academy Award-nominee Jesse Eisenberg (The Social Network) and comedian Mike O'Connell (Dr. Ken), received high praise when it made its festival debut in 2010.
In October 2017, production will begin on the 2015 Script Pipeline contest-winning screenplay Militia, written by Henry Dunham. Henry will make his directorial debut with the crime/thriller. The film is set to star Jeffrey Dean Morgan (The Walking Dead) and Jack Huston (Boardwalk Empire). Madhouse Entertainment signed Henry a few weeks after he was announced as the winner of the competition, with UTA following suit.
Jen Goldson, another 2015 contest selection, saw her romantic comedy Off the Menu produced in 2016, starring Santino Fontana (Crazy Ex-Girlfriend) and Dania Ramirez (Devious Maids). Jen was introduced to director Jay Silverman at a Script Pipeline event, and the screenplay went into production in less than a year. The film will be released in 2017.
A number of original feature and TV projects are in various stages of development, and well over 100 writers have signed with representation or had their work optioned as a result of facilitation. With Script Pipeline execs actively expanding their industry network on a daily basis, the company is continuously on the hunt for quality material to co-produce or help put into production.
By the end of 2017, it's estimated that 15,000 screenplays, pilots, and original pitches will have been reviewed through the competitions, making Script Pipeline the leading review outlet for writers worldwide.
*Industry requests to review material from Script Pipeline writers can be made here.
Notable Script Pipeline Alumni | Recent Major Success Stories