Script Sales
Spec scripts made a strong showing in November. Kicking things off, Lakeshore Entertainment picked up Mark Hogan's spec The New Mrs. Keller, which has been described as a Hitchcockian techno-thriller. Escape Artists snagged Let Her Speak, a true-story spec based on Texas state Senator Wendy Davis's 11-hour filibuster to stall anti-abortion legislation. Sandra Bullock is attached to star. New Republic Pictures and Will Packer Productions are teaming up for Green Rush. Written by Matt Tente, the crime spec follows an ex-con who schemes with his daughter to steal millions of dollars worth of medical marijuana taxes from city hall. Amy Pascal's Pascal Pictures picked up Envoy, a sci-fi/thriller spec written by Kat Wood. The script follows a military intelligence specialist who attempts to become the first-ever human representation to alien life. Finally, Sentient Entertainment scooped up Tony Mosher's drama/thriller spec Sirius about two members of a Danish special forces dog sled team who get trapped not only by the frigid weather but also highly trained adversaries. Pierre Morel is set to direct.
Other script sales:
- Misha Green has signed on to write/produce the remake of Cleopatra Jones for Warner Bros.
- Sam Cohan has been tapped to adapt the documentary Monkey Business: The Adventures of Curious George's Creators for Millennium Films. The film will follow creators H.A. and Margaret Rey as they try to escape Nazi-occupied Europe with their original Curious George manuscript.
- Quentin Tarantino will write/direct a movie about the Charles Manson murders for Sony.
- Allan Heinberg will script a Multiple Man movie for Twentieth Century Fox. James Franco is set to star.
- Burk Sharpless and Matt Sazama to adapt Morbius: The Living Vampire for Sony. This will be a spinoff from the Spider-Man franchise.
- Gary Dauberman to write/produce an Are You Afraid of the Dark? adaptation for Paramount.
- DC and New Line have found Adam Sztykiel to write their Black Adam adaptation. Dwayne Johnson to star.
Essential Reading - Screenplays and Pilots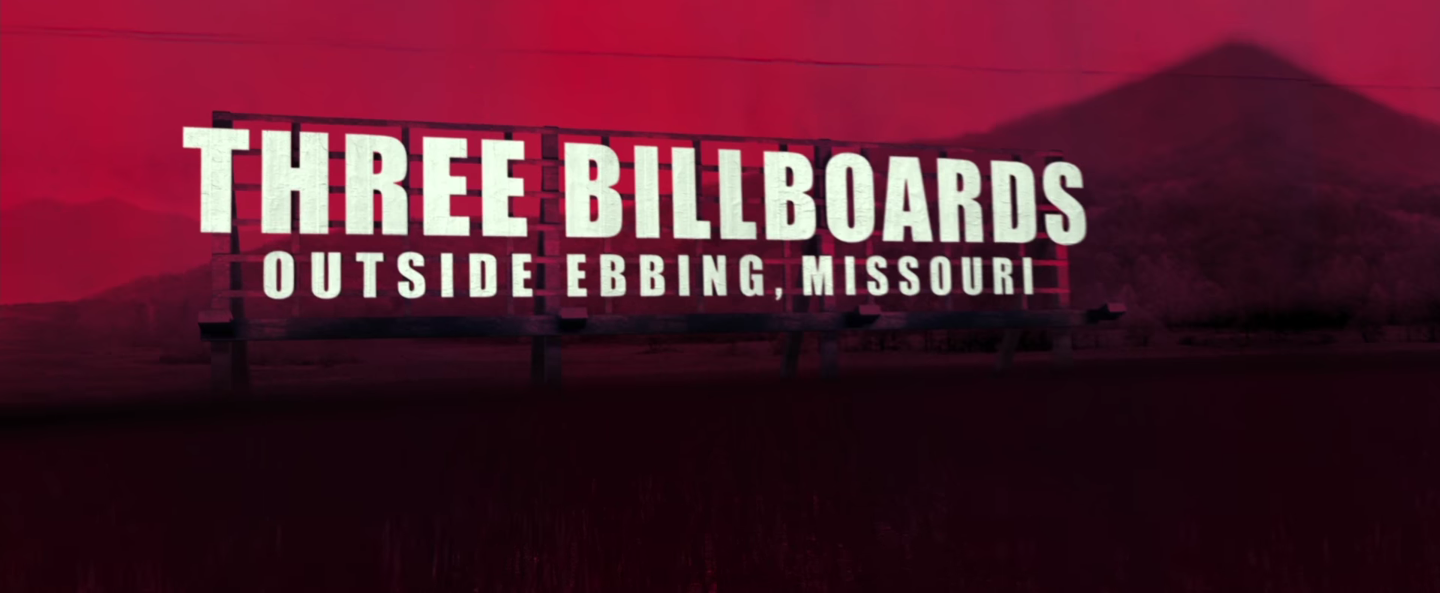 Tragedy is, unfortunately, universal. What isn't universal, though, is how we cope with it. Take Mildred Hayes. Seven months ago, her daughter was gruesomely murdered, and her local police department doesn't so much as have a lead. Fed up with their lack of effort, Mildred rents three billboards on a dirt road asking the chief of police why no arrests have been made and unapologetically drags her entire town into her grieving process.
With Three Billboards Outside Ebbing, Missouri, writer/director Martin McDonagh, continuing in the tradition of his previous films In Bruges and Seven Psycopaths, has created another strong dark comedy with even stronger characters at its heart. Mildred Hayes (Frances McDormand in a committed performance), on paper, could come across as abrasive, but everything she does is a direct result of her daughter's death and her need for closure and Mildred's profane, outrageous attitude provides levity and humor to what might otherwise be a somber and dour drama. That's not to say the film is thematically shallow—McDonagh is committed to showing that answers aren't easy to come by, and he treats the would-be antagonists of the story (the cops whom Mildred views as ineffectual and apathetic) with surprising nuance. This isn't a movie with clear-cut villains and heroes; it's a story of grief and tragedy in a small town.
As fun as the film is to watch, the script is as great to read. Moving at a brisk pace (and an even brisker 84 pages), McDonagh's flair for irreverent dialogue comes across on the page, and even without McDormand's performance, Mildred feels like a fully realized human, not just a character spouting lines and monologues. And Mildred's unrelenting commitment to finding the killer and holding the police to a higher standard, even as the whole town turns against her, drives the script and makes Mildred a character easy to root for. Because, ultimately, Three Billboards is a story about a mother's grief and how she comes to terms with her daughter's death.
Through annual competitions, Script Pipeline discovers and develops writers of all levels for film and television, connecting them to producers, agents, and managers. Since 1999, several produced films and over $6 million in screenplay and TV pilot spec sales from alumni are credited to Script Pipeline's unique, intensive process of long-term writer-to-industry facilitation. Contest finalists and winners work with Script Pipeline's senior executives year-round, getting broader exposure for their work in addition to continuous, one-on-one development assistance.
Recent success stories include competition alum Evan Daugherty selling Snow White and the Huntsman to Universal for $3 million and later taking the lead on studio projects Divergent, Ninja Turtles, and the upcoming Rose Red from Disney and Earthseed from Paramount. Evan was previously attached to write the limited series Esmeralda for ABC Studios, GI Joe 3 for Paramount, an adaptation of Myst for Hulu, and the Tomb Raider reboot. His contest-winning script Killing Season (formerly Shrapnel) was produced and starred Academy Award-winner Robert De Niro and John Travolta.
Tripper Clancy, another former Script Pipeline Screenwriting Contest winner, sold the road comedy The Ambassadors to 20th Century Fox and the pitch Winter Break to QED International, and was previously attached to write the comedy Stranded for Sony. Tripper is currently writing the animated comedy Shedd for Paramount, in addition to Hacker Camp for Hasbro. In April 2016, he sold the spec Stuber to Fox for the mid-six figures, and in May 2017 was brought on board for an adaptation of the bestselling novel The Art of Fielding.
Micah Barnett, whose work was developed through Script Pipeline coverage services, sold The Rabbit to Warner Bros. for six-figures and a TV pilot, Ricochet, to NBC. Screenwriter Brian Watanabe had his Script Pipeline "Recommend" action/comedy, Rogue's Gallery (later titled Operation: Endgame), also initially developed by Script Pipeline, produced by Script Pipeline's Chad Clough and Sean McKittrick (Get Out). The film starred Zach Galifianakis (The Hangover), Adam Scott (Parks and Rec), Maggie Q, Ellen Barkin, Bob Odenkirk (Better Call Saul), and an ensemble cast. The Living Wake, Script Pipeline's first produced film starring Academy Award-nominee Jesse Eisenberg (The Social Network) and comedian Mike O'Connell (Dr. Ken), received high praise when it made its festival debut in 2010.
In 2017, production began on the 2015 Script Pipeline contest-winning screenplay Militia, written by Henry Dunham. Henry will make his directorial debut with the crime/thriller. The film is set to star Jeffrey Dean Morgan (The Walking Dead) and Jack Huston (Boardwalk Empire). Madhouse Entertainment signed Henry a few weeks after he was announced as the winner of the competition, with UTA following suit.
Jen Goldson, another 2015 contest selection, saw her romantic comedy Off the Menu produced in 2016, starring Santino Fontana (Crazy Ex-Girlfriend) and Dania Ramirez (Devious Maids). Jen was introduced to director Jay Silverman at a Script Pipeline event, and the screenplay went into production in less than a year. The film will be released in 2018.
A number of original feature and TV projects are in various stages of development, and well over 100 writers have signed with representation or had their work optioned as a result of facilitation. With Script Pipeline execs actively expanding their industry network on a daily basis, the company is continuously on the hunt for quality material to co-produce or help put into production.
By the end of 2017, it's estimated that 15,000 screenplays, pilots, and original pitches will have been reviewed through the competitions, making Script Pipeline the leading review outlet for writers worldwide.
*Industry requests to review material from Script Pipeline writers can be made here.
Notable Script Pipeline Alumni